Welcome to Our Website
I would like to thank you for stopping by our website. We are distinctly a Baptist Church independent of any ecclesiastical oversight. We are in practice what many today now call a traditional church. I prefer the word biblical. While many mainline denominations and even many within Baptist circles have strayed off course we desire follow the biblical model for worship and personal living. No gimmicks, gadgets or gurus just the plain preaching of God's word.
As a local Baptist church we believe that the preaching of God's word must be preeminent above all else. This includes the pulpit ministry all outreach and teaching ministries of the church. The churches of a bygone era were focused on the preaching as the only means of getting the truth of God's word out and for the edification of the saints.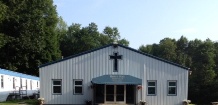 Where we are also different from other churches is our philosophy of outreach. Old fashioned preaching to awaken the cold hard hearts of sinful and rebellious men, evangelism as a church, and of course personal work, are the mainstays here.
Bible Way Baptist is engaged in a number of outreach ministries including street preaching, tract distribution, door to door evangelism, nursing homes, radio ministry, veteran's program etc. We have had the privilege of seeing God bless in each of these ministries including souls being saved, folks visiting our little church and then going on to serve elsewhere. I believe outreach (soul winning) is the heartbeat of any good Bible believing church.
From a discipleship standpoint, we have services three times (incl. Sunday School) on Sunday and once on Wednesday. Each of these services focuses on a different aspect of the believer's walk with God, doctrine, and service. Ephesians 4:11-14. Our goal is to be well- balanced in our approach to preaching so that the believer is edified, sanctified, and empowered to do the work of God. We preach expositorily as I believe this is the most accurate way of presenting biblical truth and remain true to the text.
If you are looking for a church where you can grow, serve, and fellowship drop by and pay us a visit. Be sure to check out the rest of the website and remember to tune in to "Holding Fast the Faithful Word" on WVNE 760 AM on Saturday mornings at 9:30 and Sunday mornings at 8:30. - Pastor Tim
CHECK OUT OUR YOUTUBE PAGE AT - Bible Way Baptist Auburn MA