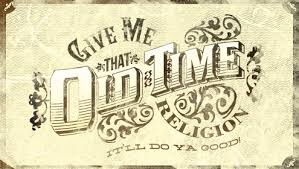 "Stand ye in the way and ask for the old paths..." Jeremiah 6:16
Looking at the state of many churches today one may ask, why in the world did they leave them anyway?
The state of affairs in the world is bleak, the voice of the church has turned to silence, souls are perishing in sin and churches are trying to "figure" out how to get people into their churches using whatever method available.
Going on 21 years holding fast to the faithful word and preaching the word in season and out of season I have seen God work at Bible Way in a remarkable way. The folks he has brought to us have come from far and wide, young and old with all kinds of backgrounds. Yet in-spite of all these differences many of them had very similar reasons for coming to our little church - they are looking for a church that is simple, not trendy, a church that simply preaches the Bible the way God intended and sings the old hymns, a church home where they can exercise the gifts God has blessed them with.
If you are one who remembers when church was a place where:
· God was worshipped, not man
· Where the precious hymns of the faith were sung from a hymnal by a congregation of believers and done in a way that honored God
· Where there was a preacher who not only preached the word but actually believed the book he was preaching from was the word of God
· Where the saints not only brought Bibles to church but also believed and reverenced them
· Where there were saved men and women who prayed together, served together and went forth to reach the lost together
· Where there was a desire to be different from the world, not a desire to bring it in or be conformed to it
· Where people dressed to meet with a holy God
· Where the Lord Jesus Christ was proclaimed to be the Saviour of sinners
Then maybe Bible Way Baptist Church is for you. If you are longing for those time honored truths and the time-tested ways of Biblical Christianity we encourage you to come by and pay us a visit. - Pastor Tim